Premium 3D Logo Design
---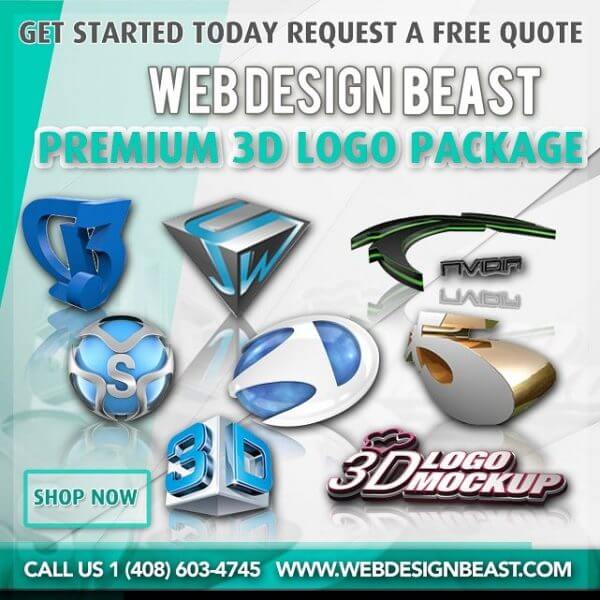 LET'S START YOUR PROJECT!
GET STARTED TODAY! CALL US
AT 1(408) 603-4745
Request your quote online or send your query. Place your request, complete with the data and send the form that will quickly respond to your need. If you want more information about our products and / or services do not hesitate to write us or contact us by telephone.
WE ARE AVAILABLE 7 DAYS A WEEK!
Product Description
3D Deluxe Logo Design @ $199
When the incorporation of new technology is considered the essential condition of a smart business, a more attractive logo with the latest visual treat has become a necessity for many. We create smart and all-encompassing 3D logo designs that are enduring and impressive enough to sensitize the market with a sense of reliability. Our 3D logo design experts have ample proficiency in creating new logos or converting the 2D logos into 3D format with aesthetic color combination.
Premium 3D Logo Design Package @ $199
With a firm belief in our strength to craft original and appealing 3D logo designs, we have introduced the package for business start-ups, those already have substantial market presence, or corporate entities looking to make their symbols more appealing.
On client order, we also provide newly created 3D logo design animations. Three 3D logo designers work to craft six designs. Clients select the best of the eight and evaluate it in the light of their given requirements. We offer time bound and reasonable revisions.
3D Starter Logo Design Package: What We Offer
$199 for a 3D Logo design
3 designers for every project
 custom 3D logos
5-business day turn around
Elegant look and Seamless finish
Perfect texture and color combination
Limited revisions and alterations
Aesthetic design suitable for the theme
No copyright issues
HD quality PNG images
Uniqueness through visual dynamics
The Big Offer
3D starter logo design package is for those who want to leverage technology for their brand promotion. Priced at a nominal $199, it allows business to have their on-budget and on-time 3D logos. The texture and color of logos imbibing client business ethos reinforce its attractive design. We focus on business message assimilation and address industry-specific requirements while converting 2D logos or creating new 3D logos.
Why Choose Our Logo Design Services 
In-house logo design teams
Guidance by market experts
Instant preview of client requirements
Industry-specific knowledge
On-budget and on-time services
Fast delivery and swift revisions
Customized logo design
Inventive color
Logo design central to brand power
Innovative Themes
Aesthetic designs
Design optimized for use on web and print media
24/7 customer support